Table of contents
Intro and review
I can't remember how I stumbled on those small replicas, but they caught my attention from the get-go and I decided to check them out. The company that sells them is: GoatGuns:

So I purchased 1 model to see what's the quality…
… and turns out, they're solid!
Very precise, realistic looking (they're all in 1:3 scale), and feature some functional elements. Of course they don't shoot, even though they come with tiny bullets that can be loaded into magazine and displayed.
Now, please note that similar models can be purchased, usually for cheaper, for example from eBay – but the ones from GoatGuns are a safe bet. They're continuously being updated, new models being added, and there's dependable support and community in US. So I chose to support those folks, for the passion project they took on 🙂
UPDATE: December 2021 – selected models (1911, Sig MCX) have been updated and now they even feature shell ejecting! (note that they still don't shoot, but now allow for cycling the bullet through the replica).
There's also number of accessories available if you'd like to extend your collection, including:
various attachments: grips, scopes, sights, suppressors, stocks, magazines, slings, and more,
display rack, that allows for showing off your collection,
additional ammunition and mini ammo case,
and of course the usual set of swag we can expect: stickers, patches, phone cases, mugs, etc.
Be sure to check out their inventory at https://goatguns.com/.
Having experienced the quality first-hand, I decided to build up the collection more…
Order of "Supply Case"
What is a "Supply case"? It's how they call the 10-pack of replicas. I couldn't resist, so I purchased it: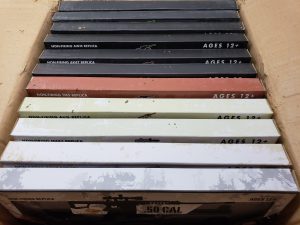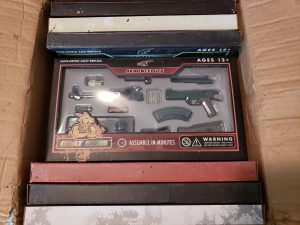 (Note: the products are being constantly improved, and the packaging is likely to have since changed)
I even snapped a photo in a lightbox! 😉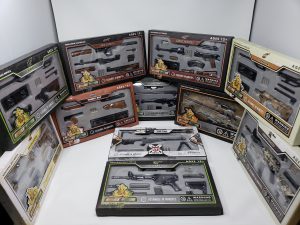 And tried to arrange it in an interesting way… although it didn't turn out all that interesting, but here it is: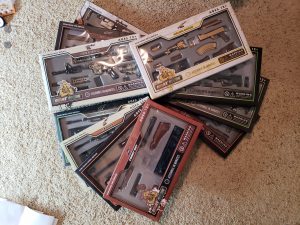 And a close-up of every model in the pack (with 1 extra model, can you spot which one?):
Anyways, I enjoyed putting all the models together, admiring the details, and displaying it all in the home office.
Speaking of assembling…
Assembly
Models come with a small screwdriver and everything you need to put them together. The assembly is very straightforward, although at times requires a bit of force to be used to ensure all the pieces are aligned properly. I haven't encountered any defects so far across 10+ models, or missing parts. They're quick to put together, and can be disassembled again if desired. Each model comes also with a special base that allows for displaying the model on your desk or a shelf in a man-cave 😉
Let's take a quick look at one of my favorite replicas – AR15: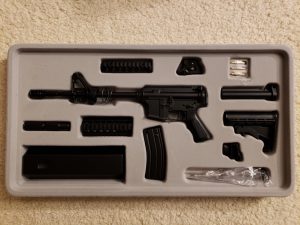 Alongside a probably most well-known model – AK47:
And here's  a quick look at assembly instructions: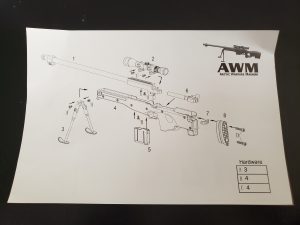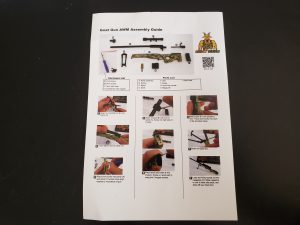 (Note: just as is the case with packaging, the assembly instructions seems to also have been updated since I purchased the models!)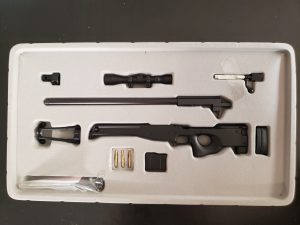 And one more set of photos: parts in the box + assembled model: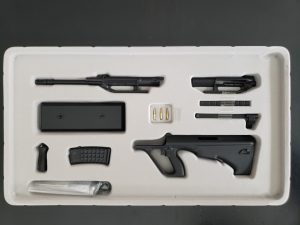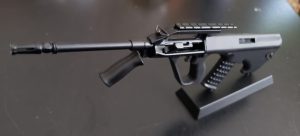 Alright, the collection is growing rather quickly, so how can we organize it?…
Display cabinet
I wanted to have an organized way of displaying the models. Considering their sizes, hanging them on some kind of wall felt like the best approach (as opposed to e.g. putting them side-by-side on a shelf). I looked for a display cabinet with the right dimensions (especially depth, since that was a limiting factor for a lot of display cases used for showcasing jerseys of your favorite team).
I decided to purchase a 24″ x 32″ display case:
24″ x 32″ Sports Jersey Memorabilia Shadow Box Frame Acrylic Display Case
Along with a pegboard – white one, for best contrast with the models:
Triton Products (HDW-4) 4) 24 In. W x 48 In. H x 1/4 In. D White High Density Fiberboard Pegboards
or stop by your local Home Depot and grab a single sheet of a pegboard, for much cheaper!

just be sure to purchase a "high density fiberboard" pegboard, and not a plastic one, so that it's easier to cut to desired size and fit in the display case
Lastly, be sure to pick up a set of pegboard hooks – but be sure to check the dimensions of the hooks, and ensure that they will fit inside of the display case, while accounting for the "depth" of the hook and the thickness of the pegboard! This was the trickiest part, as all the hooks I already had at hand were too bit and the case would not close if I used them.
WallPeg Locking Peg Hook Kit – 100 L Pegboard Hooks Tool Storage Garage Organizer
Then it all boils down to cutting the pegboard to the right size and putting it all together!
If you cut it to precisely the right size, you may not need to glue the pegboard inside of the display case. And if you want to glue it, be sure to do so after putting pegboard hooks in each corner first, to space the pegboard properly in order to allow for adding/removing the hooks later on.
I used a table saw for a quick and precise cut:
And the final result – number of models displayed safely (and without the risk of being covered by dust over time! 😉 ):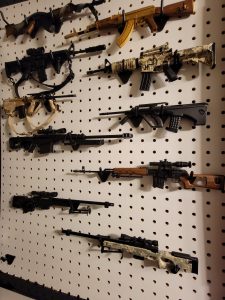 Gallery
Here's few more photos to show different models and accessories.
Number of models are available in different camo options, here's an example: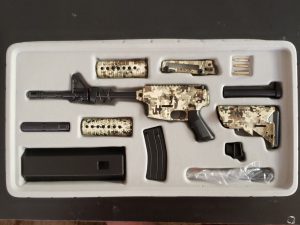 The packages come in a custom envelope, looks cool! 😉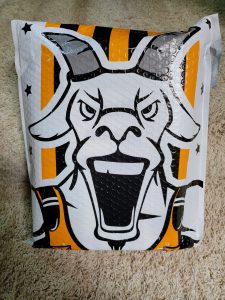 Packaging of some of the accessories:
UPDATE December 2021: I purchased 2 latest models: 1911 updated with shell ejecting, and brand new MCX also with that functionality. They're both very detailed, high quality, and a great display pieces! Here's what was in the box:
And few close-up shots 🙂