Today we attended the Van Gogh Immersive Experience in Seattle, and I thought of briefly sharing my impressions 🙂
What is it?
It's a self-guided tour through the works and life of the Artist. It's organized in a gallery style, with lots of information explaining the stages of life and career, development of the techniques, and shedding more light at the style characteristic to Van Gogh ("why is there almost no red color on his paintings?", "why are some patterns of such high-contrast?" – see at the end of this article for answers 😉 ).
Educational, but – what's most important – also fun!
If you decide to stop by, you'll have a chance to go through few rooms, each with different focus:
first one is a typical gallery, with paintings and interesting information. My favorite part: two displays using "projection mapping" – the face of the artist, colored in various well known patterns of his, and a vase with animated plants,
then you'll enter a large room, with animations projected on all the rooms and floor, where you can experience Van Gogh's art come to live – mesmerizing!
next is a section dedicated to VR experience,
and lastly – a shop, where you can find every-day items themed into Starry Night and Almond Blossom,
The whole experience can be completed on 60-75 minutes.
There's parking available right on the location.
For more information on the event, and to book tickets, visit:
https://vangoghexpo.com/seattle/
Check out a quick video I made from this experience!
And some fun photos: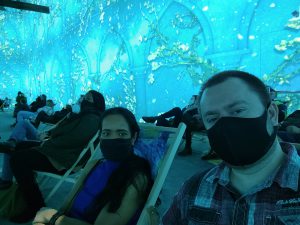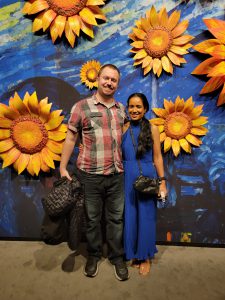 It was a fun evening outing 🙂
As promised, here are couple interesting facts:
"why is there almost no red color on his paintings?" – the pigment used by Van Gogh for red turns white over time when exposed to oxygen, thus over the years it has lost it's color…
"why are some patterns of such high-contrast?" – it's suspected that Van Gogh had a color vision deficiency (but wasn't color blind), and as such was often over-compensating in his paintings.