As I'm having fun and experimenting with 3D printing, I thought I'd give back to the community and design a useful component. And it's always so much fun to see your design materialize – to be able to hold something that an hour ago was only displayed on your monitor, and then see it work. Magic! 🙂
What is it for?
It's a mount for Raspberry Pi, designed to fit with Monoprice Select Mini.
Many people are running OctoPi for assisting with 3d printing, thus there's already a Raspberry Pi nearby – and this seems like a natural addition to be able to monitor the prints remotely and make the most of the timelapse feature.
Link on Thingiverse:
http://www.thingiverse.com/thing:2267182
The project site has all the details: required components, assembly, print settings, etc.
Assembly
Here are few photos showing the printed parts and assembly process: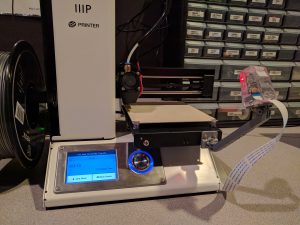 Result