Index:
Overview
My lovely wife Sheetal found a new fun activity for us to enjoy! 😉 Making art with a fused glass. We gave it a try at a place just a short drive away, called Molten Works Glass Studio (https://www.moltenworksglass.com/).
They offer classes for a good start, option to book studio for making your own creations (those sessions are called Sip'n'Fuse – with drinks available!), as well as specialized events (would you like to learn how to make portraits from glass? Or maybe how to make a beautiful art piece with the liking of your pet?).
Folks working there are super helpful and always happy to answer questions or share an advice. Oh and by the way, I'm updating this article over time, with photos from each of our visits (check them out below!), so it's an opinion I built over multiple visits and I fully stand behind it 😉
What to expect?
If you decide to sign up for a class, you'll be welcomed and shown to your working space, and a brief theoretical part will begin. This is where you'll learn about safety (wear provided safety glasses, cover your drink [that you brought or purchased there], be careful not to get cuts [you're working with glass after all ;)]). They you'll get a rundown of the tools (glass scoring tool, "pliers" to crack the glass, "pizza cutter pliers" to chip at the glass to get it to desired shape, funnel for spreading glass powder, brush, and couple other items) – note: those are not the real tool names, I don't remember those, but the important part is to know how to use those tools 😉
And then the real fun starts – you get to decide what type of art piece you want to create (options include: flat square, flat circle, plate, candle holder, coasters, and more), and from now – imagination is the limit.
Also, feel free to take a stroll through the workshop – there's lots of art hanging on every part of the wall. From finished pieces that can serve as an inspiration, to informative tips showing the before and after of various techniques.
And if during any visit you find yourself wondering what piece to create – they also provide books with various templates, and those can be a great starting point to further customization, to make a unique, one of a kind, artwork.
Your final pieces will be ready for pickup generally exactly 7 days after your session. Molten Works crew updates their website (see Projects made in class page) with the information on what art has been finalized in the furnace quite regularly, which helps keep track – I'm always eagerly awaiting how the final pieces turn out.
Lastly, check out the furnace where the glass gets fused – even the name demands respect! 😉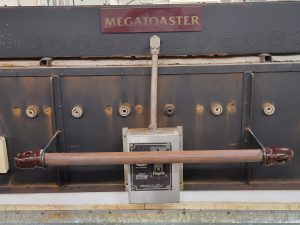 Video montage
Here's a video edit I made in October 2023, including all the art pieces we've created till then:
Gallery
Our 1st visit was in September 2020 – this is when we took the class and then created our very first art pieces made from fused glass. See how they turned out!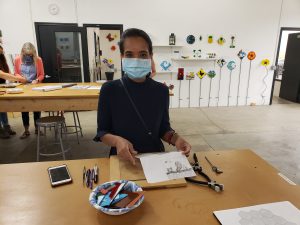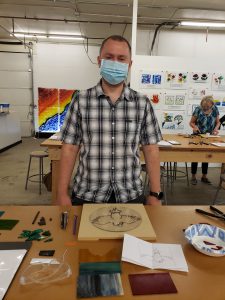 And here's the before (final composition of the art pieces) / after (how it looks after fusing):
You can spot differences in the above images in how the pieces of glass fused – the rooftop scene has been melted fully, while Conure was tack-fused. That option allows for preserving more details/texture in the final piece. Choose the right method to achieve the desired outcome.
The inspiration for the first piece pictured above came directly from a painting by my Wife: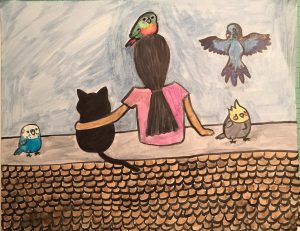 For more beautiful art, please be sure to visit her website:
https://www.SheetalBerg.com/
2nd visit –  9/26/2020
We both decided to make an art based on our cockatiel, Sweetie. But we took different approaches, which one do you like more?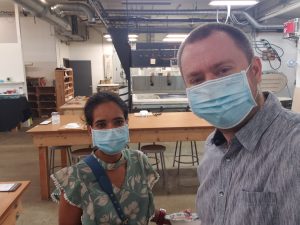 Before/after:
Our collection of parrot-themed art is growing!
3rd visit – 8/19/2021
Hard to believe it's been almost a year since we came to Molten Works Glass Studio… Middle of the summer, so we both decided on cheerful designs.
Before/after:
This time we both decided to add hangers – for square images, there are 2 hangers added to the top corners, while for round pieces a single hanger is added at the top.
Both pieces are now being displayed in our aviary (you can read more about the aviary here):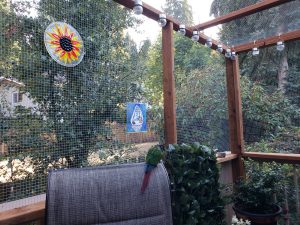 4th visit – 9/4/2021
We had to come and pick up the fused pieces from our previous visit, so we decided to turn that trip into another session in the studio and make some more art.
Before/after:
5th visit – 12/11/2021
This is a session we booked as the holiday break was approaching – nice way to start unwinding and disconnecting from work in preparation for the wonderful time of the year 😉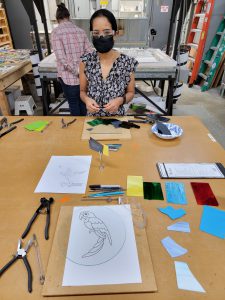 Before/after:
We made a beautiful winter scenery (and snow fell just couple weeks later!) and added another item to our parrot art collection.
6th visit – 1/22/2022
Happy New Year! 😉 It's still cold and rainy, can't wait for spring. But what a better way to spend some time on the weekend focusing on making art…
Before/after:
7th visit – 3/31/2022
This time we tried something new – instead of "freestyle studio time", we signed up for a class. Theme: making pet portraits using glass frit. What's a frit? You can thing of it as "glass powder", except it isn't as much a glass smash into small pieces, as it is the components that get fused into glass (silica, fluxes).
Working with frit is quite different than using glass pieces. You need to consider the layering, gradients, and – scariest of all – it's easy to add more frit, but it's not really practical to try and remove some. This is where Bob Ross' "happy accidents" mantra is to be embraced 😉 If you make a mistake,  don't worry and continue working on your piece!
The end results are worth it – they certainly have a unique feel and lots of character. And frit helps capture the texture of fur! Now you know why the class focused on pet portraits.
Although, to surprise of no one of course, I went with parrot 😉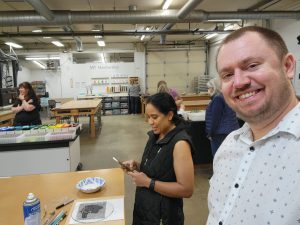 Before/after:
8th visit – 8/16/2023
It's been a while! Life got busy, in and outside of work, and time passes quickly, but we finally found some time for a relaxing afternoon of making art. It was middle of the week, Wednesday, during our staycation. And the studio was quite booked! Oh, and there was a cute doggy that I couldn't resist and had a bit of play time with 😁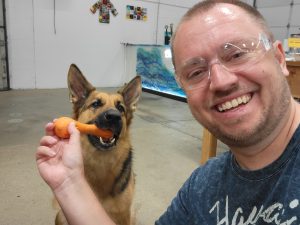 It all started with sketches:
Before/after:
Gallery of all final pieces
Those photos have already been included in the above gallery from each visit, but I wanted to collect all the final pieces in one spot. There are 2 pieces made in each visit (one by me, and one by my Wife). Here we go! 🙂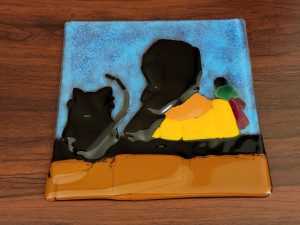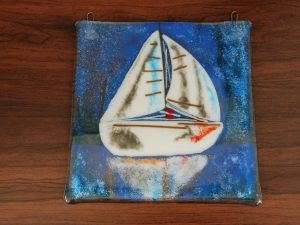 <sunflower picture to be updated>
UPDATE: 9/12/2020 (Bella [parrot], Sheetal on the roof with Bella and Ace)
UPDATE: 9/26/2020 (Sweetie [parrot] in 2 versions)
UPDATE: 8/19/2021 (Sunflower, Sailing boat)
UPDATE: 9/4/2021 (Halloween, Gudetama)
UPDATE: 12/11/2021 (Macaw [parrot], Snowy mountains)
UPDATE: 1/22/2022 (Woman on the beach, Humming bird)
UPDATE: 3/31/2022 (Pet portrait in frit class: Ace on grass, Bella with red background)
UPDATE: 8/16/2023 (Lighthouse, Porsche Cayman)