Making the most out of the Holiday break… We rented a hot tub boat! Yes, those exist 🙂
It really is a hot tub, floating on the water. Makes for an awesome experience – whether it's middle of the summer, or a much colder day, with a bit of rain, in the middle of winter. The water gets heated to around 104 degrees Fahrenheit (40 degrees Celsius) and keeps you warm and comfortable through-out.
The experience lasts 2 hours, and a single boat can accommodate up to 6 people (if your group is larger, you can book multiple boats and tag along together).
The staff was super friendly – and the business is organized in a very practical way, they thought of everything. Of course towels and bottled water are provided for your convenience. The changing rooms are couple of feet away from the boat, so even on a breezy day, you don't need to worry about feeling cold before getting into the boat. They provide secure storage for your belonging, and even waterproof pouches to keep phones safe. Oh and there's a waterproof speaker on every boat as well, so party away! 😉
I highly recommend trying it out – whether you're local to Seattle, or a tourist in the city – check it out.
If you'd like to learn more, visit:
https://lakeunionhottubboats.com/ 
Check out the short video I made!
And here are some photos 🙂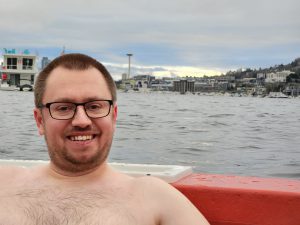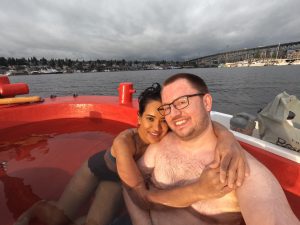 What a fun adventure it's been, even in the middle of December… 🙂