I believe there's no better way to start building your knowledge of a new track than paying for 1:1 coaching – this way you can learn the tips from folks intimately familiar with every inch of the track, and start building good habits from the get-go.
But how do we continue with the progression once we start feeling more confident on the track? Paying for ongoing coaching can get expensive 😉 but now there's also a new type of option – Garmin Catalyst, which aims to identify insights from the way you drive using AI.
Table of contents
The Garmin has been provided by Andy from Armadillo Racing, equipping Pacific Northwest motorsports scene with all the gear!
Check them out at https://www.armadilloracing.com/
And a big thank you to Don Kitch Jr and ProFormance Racing School for allowing me to take a unit for a test drive for couple dozen laps to try it out! That's what convinced me to get one for myself 🙂
What's in the box?
Here's a quick overview:
And a closer look:
box and the main unit itself:
all included accessories: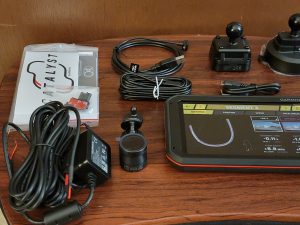 The set comes with everything you need to either connect the unit to power socket in the car for your track days only, or even hard-wire without risking running down your battery. Plus an extra camera mount for the windshield, and additional mount for the unit allowing for installing it directly to the dashboard (if you'd prefer to have the unit mounted permanently).
Do I need any extra accessories?
I'd recommend just one more item: storage case. To safely keep the unit and all the mounts/cables when not in use.
I went with this one, and it works great!
BOVKE Hard GPS Case Compatible with 6-7 Inch Garmin – Buy on Amazon for $15.99
Note that I keep the the long arm + windshield mount outside of the box, it wouldn't fit inside.
Interesting bits
Here's a brief selection of things that may be of interest to a potential (or a new) owner. You can find plenty of reviews online, including helpful video reviews on YouTube, so here let's just focus on the highlights:
the unit can run from just the battery power for up to 2 hours. That means you can plug in the camera and run it for couple sessions on the track without having to plug it in for charging – can be handy if you want to quickly swap the unit between cars/drivers,
even better yet – the battery is key to providing convenient review experience in the pits once you're done with the lapping,
one of the software updates added capability for exporting a video with the telemetry overlayed automatically – great feature!
you can enable in Settings a button for taking screenshots – that button will be displayed close to left edge of the screen, on top of every screen and can be used any time,
the unit comes with 32GB memory card (good for about 7 hours of footage in 1080p), but has a second SD card slot that you can use to add up to 256GB card! See details in documentation: https://support.garmin.com/en-US/?faq=rvuViv7hoj6oDfG4NdnaZ5
it supports multiple driver and car profiles. And allows for easy selection of who is driving what at the start of each session,
where are the files saved?

Screenshots: \Internal storage\Pictures\Screenshots\<timestamp>.png
Exported videos: \M-`\Garmin\Saved Videos\<track name>\<timestamp>\<lap #>\video_<#>.mp4

remember to fully turn it OFF after you're done, as it won't fully shut down by itself, and will drain battery when idle (think: just like your phone… Oh and btw. – it's running Android 😊)
So… nothing's perfect – what are the bad things here?
There are few things that could be improved:
Complete lack of access to data and stats online – while you can sync your Garmin Catalyst to your Garmin Connect account, from what I see, there's no browsing experience of that data outside of on the Catalyst unit itself. This feels very limiting, in terms of reviewing the data afterwards.
There's lots of tracks supported, but – what about autocross? I'd love for the unit to "learn the track" after first 2-3 runs and allow for tracking the times and telemetry. Even if some manual input is required (e.g. selection of the start/stop line), it would still be a valuable option.
While it has great support for Pacific Raceways (https://pacificraceways.com/), I found the support for The Ridge (https://www.ridgemotorsportspark.com/) quite lacking (only first 3 segments being recognized, and then telemetry and time delta going bonkers, no support for Chicane configuration). I hope this will improve over time.
Changing name of exported files (they're just under <track name>\<session timestamp>\video_<N>.mp4) – I'd like to be able to provide more meaningful names to easily refer to different clips.
Option to modify the data, e.g. car associated with a session (if wrong was selected by mistake on session start)

Also, does the selected car matter at all? I didn't see any correlation, nor filtering by car available anywhere (although I really hope some estimations and recommendations made for e.g. optimal lap, do include car-specific considerations [eg AWD vs RWD]).

Ability to add notes – goals for session, car settings (tire pressures, storing weather conditions [rain, temp], etc.), notes for each lap/segment, additional content to help us review the vast amount information in the right context later on,
Extra configuration options for when exporting the video – choosing which telemetry overlay to include, and where should it be positioned, allowing for embedding a custom logo/watermark, etc.
Note that if you want to export the same video (or the same lap) with different options (get one with delta against best lap in session, then get one with delta against an optimal lap) – consecutive exports of the same segment overwrite previous exports of that video! So you'd need to export, then copy that file to your PC, then re-export with new settings.
Something I haven't researched yet, is alternate mounting options for the camera – think: angle from behind the driver to also capture steering wheel inputs, or even more creative angles like from outside mounted on the window behind the driver, etc. Would that even work with the camera calibration settings? (assuming we got longer cable to accommodate the new location).
How did it do at the track?
I took it for a test drive the very first chance I got 🙂
Check out the sample video, exported with the telemetry overlay:
What did I learn so far?
Here's quick look at the recommendation I got – the device helped me learn few more things to improve my times and lines on the track!
Software updates
Update May 2022:
Since I purchased the device, there's been few updates. The biggest one has been the ability to export the videos with overlay, but just couple of weeks ago a latest update became available. Here's the changelist shown on the device upon updating: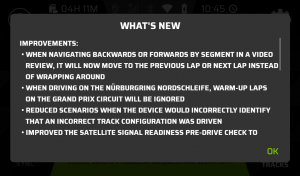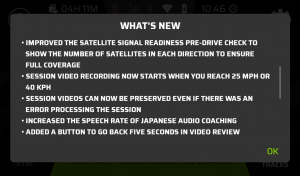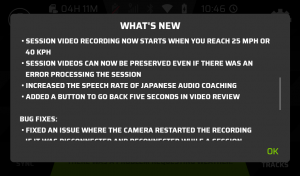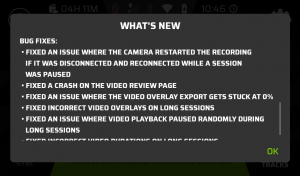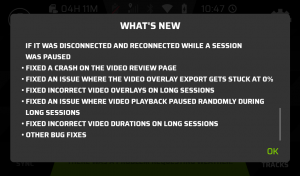 Catalyst mobile app
In June 2022, Garmin released a new Catalyst mobile app!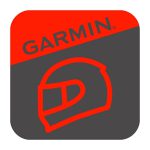 The app allows you to easily view your data (much more convenient that using browser and https://connect.garmin.com/), and as of November 2022, Garmin also added Leaderboards (you can chose for your data to remain private, or show on public leaderboards) and Friends for easy sharing of your results.
Pros:
easy access to session data – summary, detailed lap times and telemetry,
ability to compare your results on leaderboards,
easy way to check stats of your friends,
more ways for "bench racing"! 🙂
Cons:
no access to the videos, since those do not get uploaded to cloud (wish they did in the same way as GoPro),
"opportunities" identified on the Garmin Catalyst device itself also do not sync,
there's an unnecessary degree of confusion between

device profiles

and

Garmin Connect profiles

I appreciate that online account isn't required to set up an account on the device, but being able to connect any local account with any online account, at any time, from any device, leads to error-prone configurations, and there's no way to reconcile accidental data uploads (I confirmed that with support), which – in heavy use scenarios (multiple drivers, multiple cars, multiple Garmin devices) leads to painful loss of some of our hard fought for data,

on a similar note, there's discrepancy between local vehicle profiles, and vehicles on your online account – luckily looks like a recent update tried to address that by giving an option to merge duplicated vehicles, but I dismissed the prompt for one of the vehicles accidentally and I can't find an option to do so now – there's still number of gaps in the app,
The Catalyst app is available for both Android and iOS, and you can find more information here:
Photos
Main menu: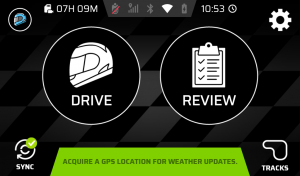 Session summary screen: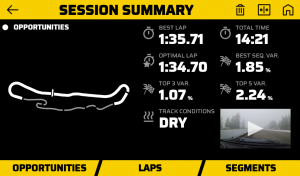 Reviewing data from previous sessions:
Weather: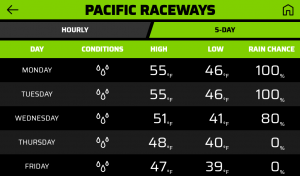 Settings: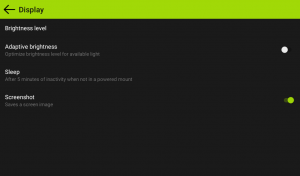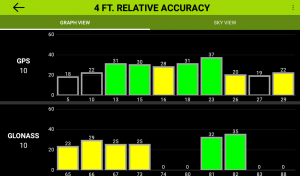 All in all – I'm happy with the unit and it's going to be a part of all my track days moving forward, and I hope the device continues to be supported through regular updates and new features.
Post updates
October 2022
added information on Catalyst mobile app
November 2022