I finally signed up for autocross at Evergreen Speedway! Having watched number of events there over the years (regular Formula Drift sessions, Figure 8 racing, and more) I was eager to drive on that track myself. Read on to see how that went!
Table of contents
Venue and organizers
The main section for autocross events organized in this venue can be found here:
https://evergreenspeedway.com/autocross/autocross-rules/
with the schedule of upcoming events available under:
https://evergreenspeedway.com/autocross/autox-schedule/
and – this is important 🙂 – considering how quickly the events sell out, be sure to follow this Facebook page to get informed as soon as events become available!
https://www.facebook.com/EvergreenAutoX
I signed up for this event, now what?
In addition to making sure that your car is in good technical condition, you need to have a good helmet and I highly recommend you read the rules (https://evergreenspeedway.com/autocross/autocross-rules/).
In this section, I'll try to help you navigate the logistics, as things can be a bit confusing the first time around (and signage isn't always super precise to guide you to your next step).
Where to go?
You'll be coming from Steven's Pass Highway, and to help you navigate the venue, I quickly put together this map – click to see in full screen: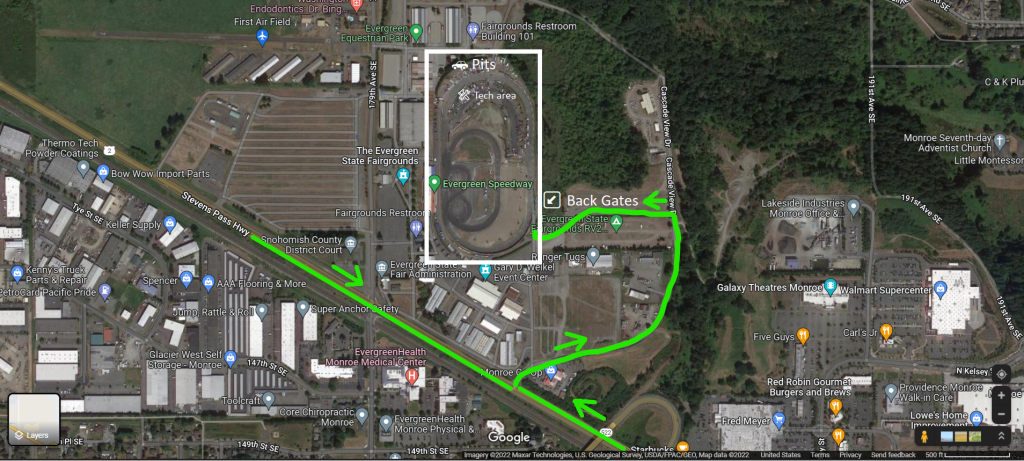 Here's a handy link for the turn off of the freeway:
https://www.google.com/maps/dir//47.8640488,-121.9859893/@47.8640366,-121.9860906,144m
You'll see few areas marked on the map:
Back gate – this is how we enter and leave the venue,
Tech area – get your car cleared and pick up transponder,
Pits – home base for the day!
What to do upon arrival:
When you arrive, head through the back roads (don't go towards the front of the fairgrounds!) and turn into the back gates. Here, park your car in the line, and walk to the check-in stand at the gate itself. Here you'll be asked for your name, given a number and a wristband. Afterwards, head back to your car and now drive through that gate.
Once inside, drive to the tech area. Park your car here, pop up the hood, and head to the check-in stand. Here you'll exchange your drivers license for a transponder (and couple of zip ties). That small red device needs to be attached at the front or rear of your vehicle, about 18 inches off the ground, with those zip-ties. Tow hooks or grills are best candidates, but please note that some scuffing can occur (be sure to install it tightly). A person should "clear" the inspection of your car (confirm that battery is tight, etc.) as you're returning to it with transponder.
Now, find yourself a comfy spot in the pits area, and start making friends while waiting for your group to start!
See next section for details on how the day plays out.
And when you're ready to head back home, you'll drive back how you came, and be sure to give back the transponder in exchange for your driver's license.
What to bring?
If you're building a toolset for your autocross events, I'd recommend grabbing:
lots of bottled water and lunch – it's important to stay hydrated, and while some events may have catering or a food truck, some won't,
tire pressure gauge and a portable (12V AC) compressor – to fine-tune your tire pressure an improve times,
foldable canopy (with weights) + foldable chairs – those are often full day events, and it's great to have a comfy spot,
plastic box – large enough to to store your belongings outside of the car (and cover them from rain), but small enough that it fits in your car while in transit,
zip-ties and some snips (I like those) or a multi-tool – to attach/remove the transponder,
GoPros, spare batteries, mounts – to collect the proof of your amazing driving!
oh, and bring a sunscreen – it's an outdoor event after all, duh 😉
Overview of the day
So you're all checked in, cleared tech inspection, and ready to go? Be sure to attend the driver's meeting (takes place in the tech area, but remember once driving starts that part is hot and there's no pedestrian traffic there!), and take as much time as you can to walk the track and familiarize yourself with its layout. Walking the whole track at least once is an absolute must if you don't want to find yourself lost in the sea of cones on the first few runs.
At this point you should also know which group you've been assigned to (this is based on check-in order, announces at drivers meeting).
There are 3 groups (group 1, 2, 3), and they do their runs in that order. Takes about 45 minutes for each group to finish their runs (4 every driver in a group gets 4 laps).
How do I know that my group is about to start? Well, you need to pay attention 😉 If you're watching the current group, you can track when they're on their 4th laps and start getting ready. Cars for the upcoming group will start getting in line in the adjacent lane, so that's a clear indication that the prior group is about to complete.
There can be 3-4 cars on the track at any given point in time, at a safe distance, but it may happen that someone gets lost, spins out, or otherwise the run gets interrupted. Race directors generally do great work ar recognizing when someone's lap gets impacted, and grant those folks an extra run (don't be surprised if you see them wave someone from the side to "cut in the line" – this is why and I think it's a mechanism that works well).
Oh and your group is not driving, it's good idea to ask for ride-alongs to maximize your seat time and learn from others!
Pro-tip: download Race Monitor app on your phone! And maybe consider paying for the Pro version and annual subscription, to get all the perks. While your times will be shown in real-time on the scoreboard, it's quite difficult to decipher them in the sun, memorize to write down once you're back in the pits, and all in all having all stats (including times of your friends and vehicles you're watching) in the palm of your hand is super convenient.
Photos and videos!
Alright, let's see how our day went 🙂
Photos from pits and the staging line:
Look at that Cayman S go! 🙂
Great spot for lunch:
Is it me or do the cars look like they're holding hands on this photo? 🤯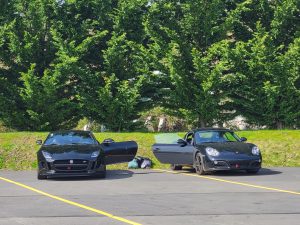 And a shout-out to Tyler for giving epic ride-alongs and sharing good tips!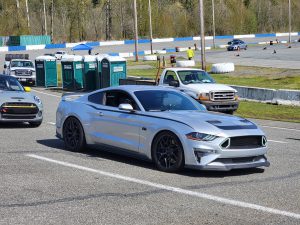 Oh, one more thing – if this is your first time at autocross, don't be surprised if there's a tiny little Miata putting down much better times. They're much faster than they look 😉 Plus – you'll build your skills over time, and know that there's lots of folks who are regular at those events, and have much, much more seat time.
And most importantly – have fun and meet cool people!
Thank you to 425 Motorsports (https://www.425motorsports.com/) for sponsoring the event, to organizers of AutoX at Evergreen Speedway, and to Tyler in Mustang RTR for giving us ride-alongs and then joining our group to ride with us and give very helpful feedback, and Rodriguez for his vote of confidence when he approached me before the first lap asking if he can ride as a passenger, not knowing what to expect from me as a drive (but I appreciate the compliments on the car!) 🙂
And of course, it shouldn't be a surprise that you'll see a lot of cars with Avants (https://www.avants.com/) stickers and license plate frames… great crowd!
BONUS: Photos from our next visit (8/21/2022)
We're better prepared each time – now we use a small tent as a "home base" to keep all the items safe. Next time we need to remember to also pack chairs so we can be comfy!
Grand stands remain a go-to place for lunch while watching other groups do their runs:
Checking out the cars in-between the runs: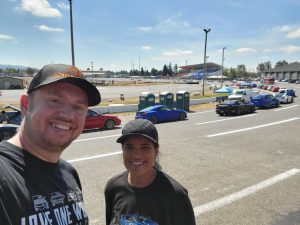 Nice lineup in rear-view mirror!
Sheetal getting ready for her run: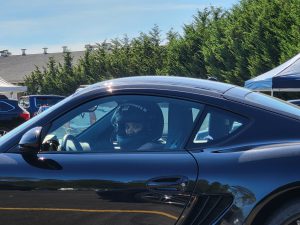 Fun gathering – 2 red and 2 silver Corvette's from different generations: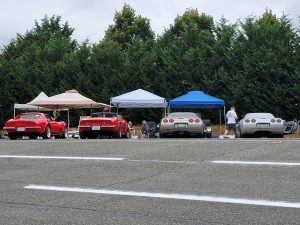 And I also saw a slick RX-7 – blacked out, and sounded mean to match:
This time we also gave some rides to passengers – always fun to put a smile on someone's face 🙂