After nearly a year of waiting, I received the Steam Deck! And the timing couldn't have been better, as… I caught COVID a week ago, and am still recovering. So here's something to cheer me up 😉
I got the 512GB version, to maximize storage (I'll add an SD card anyways), and also to benefit from supposedly fastest storage available on those models, and the "anti-glare etched glass".
Did it live up to expectations?
You'll find that in section 4, but feel free to check out all the various resources I'd like to share with you in this article 🙂
Table of contents
1. What's in the box?
The box it comes in (at least the current batch) is an easy give away of the contents, which was a bit surprising considering what's inside – I think it would be safer for the box to be more… anonymous. But – package arrived as planned, so I can't really complain.
Let's see what's inside:
Deck arrives with a "seal" which can be also made for a cool keychain 😉
And inside of the case is the long awaited Steam Deck!
I couldn't help myself but to snap few more photos alongside companion cube: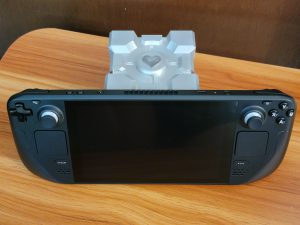 No, the cube wasn't part of the set… It's an aluminum cube, made on CNC, that I purchased at a charity auction at work few years ago. Did you like it? Well, Bella 🦜 did as well, so here are few more snaps 😉
Alright, coming back to Steam Deck… in the box there's of course a charger (take hint, 🍎) with a travel pouch to safely store it while on the go: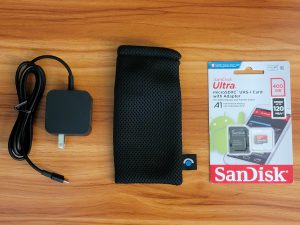 Time to get it up and running.
2. Initial setup and configuration
I didn't want to be limited by cable on the very first experience with the Deck, so… I used a power bank to provide juice during the initial setup 🙂
Nice to see support for Polish language! I'll stick to English, but – always nice to see the acknowledgment and inclusion 😉
As the initial setup was ongoing, I reached for a Switch to do a quick comparison:
More side-by-side comparison later on, but in the meantime, setup completed and I dove into various settings next: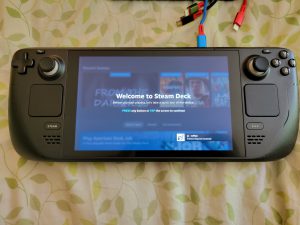 Prompt for claiming the rewards for 512GB version: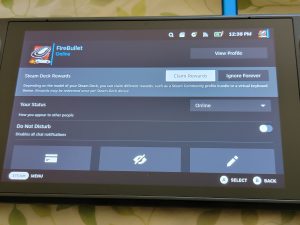 And quick rundown through some other options:
3. Accessories
Before we disappear into the world of portable gaming, let's ask ourselves a question: do I need any extra accessories?
The case Steam Deck comes with is great. I don't really feel the need for buying another one, as this one is sturdy, fits perfectly, and offers sufficient degree of protection. While it could be even better if the outside pocket behind a rubber band in the back was in fact accessible from inside, without concerns about things falling out, it's the only caveat that I observed.
Now, I highly recommend picking up SD card, regardless of which model you end up with. You can always use space. Buy a high quality card (beware fakes from Amazon…), and largest you can comfortable purchase. Here are some options:
Sandisk Extreme – Micro SD card, various sizes, buy on Amazon
Sandisk Extreme – 1TB, $129.99, buy on B&H Photo Video  – I like to buy SD cards directly from them, to avoid potentially getting a fake from Amazon (it happened to me before…)
What about screen protector? I'm not planning on using one. When not in my hands on safely charging on the side, it will be in the case, so I don't anticipate screen being exposed to anything "risky". But if you're interested in such additional layer of protection, there are many options to choose from:
Screen Protector for Steam Deck, 9H Tempered Glass Film, 3-Pack – $13.99, buy on Amazon
Benazcap Steam Deck Screen Protector, 9H Tempered Glass Film, 2-Pack – $7.49, buy on Amazon
amFilm Steam Deck Tempered Glass Screen Protector – $6.99, buy on Amazon
Steam Deck is all about the freedon! On-the-go gaming. Whether it's at a camping trip, while resting up and listening to the sound of waves, during a commute if you use public transportation, maybe on a flight, or… on your bed after a long day at work 😉 And this is where a power bank can really help extend the fun. I highly recommend choosing one capable of delivering at least 45W of power, and at a rather large capacity (20,000mAh or more). Reminder that Steam Deck has a ~5,200mAh battery (40Wh, 7.7V, you can find replacement on ifixit). Here are my favorite options (I'm using both):
Baseus 20,000mAh Power Bank (65W, USB-C, PD 3.0) – $47.99,  buy on Amazon
Baseus 30,000mAh Power Bank (65W Fast Charging, USB-C, PD 3.0) – $62.99, buy on Amazon
And lastly, this is a small "extravagance" I allow myself for – having extra chargers in most common places I use electronics at. There are many different options here, and it doesn't have to be OEM charger of course:
Anker USB C Charger, 735 Charger (Nano II 65W) – $44.99, buy on Amazon
Baseus USB C Charger, 65W 3 Port Foldable USB C – $29.59, buy on Amazon
JSAUX 45W USB-C Power Charger for Steam Deck, 5FT Cable Type-C PD 3.0 – $15.99, buy on Amazon
4. Quick Review
Short and sweet – I love Steam Deck. It's great. Nothing else to add 🙂
Alright, maybe just a bit more details on the good and bad…
Good:
support for A LOT of games in my Steam library,
the convenience this device brings is… AMAZING. I do have a gaming laptop, but it's not half as convenient (plus Windows updates each time I finally find 30 minutes to play…)
great quality, all the controls feel good, device inspires confidence!
Bad:
downloads when device is sleeping are not supported (but at least we can enable downloads in the background, but that may lead to a bit of performance impact),
the device is a bit heavy, and you may feel it in your hands (am I the only one getting numb feeling in my elbost when playing on the bed? 😉)
Again, best thing is how many games I was able to enjoy, in those short bursts of free time in today's busy world. Jus grab the device, press power button, and you're back in the game in under 5 seconds. Sure, like Switch/PSVita/PSP/3DS/…/GameBoy previously, but – with the power of PC and a huge Steam library!
If you're curious, so far I played (and I'll try to keep this list updated 🙂):
Aperture Desk Job – great "tutorial" and an introduction to Steam Deck
Portal 2 – completed on Steam Deck, felt appropriate to have it be one first games I played on the Deck 🙂
Half-Life 2 – I only played couple chapters, as good as I remember, real classic.
Max Payne 3 – completed on Steam Deck, awesome experience, highly recommended,
The Evil Within – I previously played on Xbox, few years ago, but I was finally able to enjoy it more,
Raft – controls in inventory are a bit clunky
The Complex – completed on Steam Deck, engaging story, and it's fun to explore alternate plot options,
Dinkum – very addicting!
Ryse: Son of Rome – completed on Steam Deck, it was one of the launch titles on Xbox One, but I was able to finish it only now,
Scorn – intriguing, plays well on the Deck, looks… intense,
Stalker – I only tried for few minutes, controls need fine-tuning,
Metro Exodus – works so well on Steam Deck, capped at 40FPS, great adventure!
Battlefield Bad Company 2 – I'm re-playing the single player campaign, to re-live the memories from back when Battlefield was great (ha! 😀)
This is more games in ~4 months of 2022 than in few years prior combined.
5. Comparison (Nintendo Switch, Nintendo 3DS XL, PS Vita)
This section focuses on side-by-side photo comparison between various portable devices I own. I won't dive into details. Steam Deck is great. And so is Switch. And 3DS has a timeless charm (brings back such good memories…). Oh and PS Vita still looks slick and modern. Let's embrace all the options, what a time to be alive 😉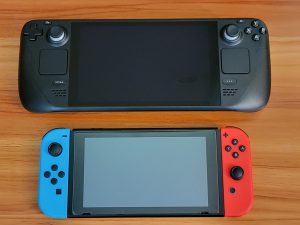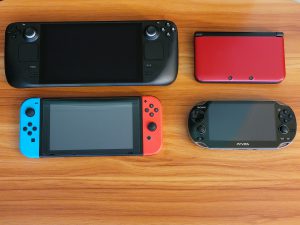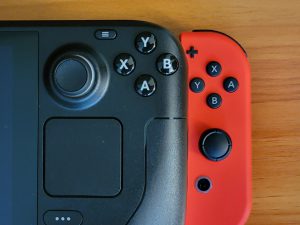 6. Tips and Tricks
I'm going to share few of my favorite tips – something to keep in mind, as it may come in handy 😉
Steam shortcuts – convenient way to access useful functionality, at any time (even while in game)

Hold Steam button for few seconds and all such screenshots will be displayed!
Steam + R1 – take a screenshot,
Steam + X – show/hide the on-screen keyboard,
Steam + Left Analog Up/Down – screen brightness adjustment,

you can play and charge at the same time, including from a Power Bank – I'd be surprised if this wasn't the case, but I'm glad it works well,
you can connect an external monitor, keyboard and mouse, with the use of USB-C hub (this can be official Steam Deck, or any of the popular USB-C hubs!),
the game needs to be closed before the saves sync to cloud (where supported) – important to keep in mind, especially if you're switching between Steam Deck and PC,
you can suspend one game and then run another one – I haven't checked the impact on performance and battery, but the couple times I tried, it worked well,
by default, downloads will pause whenever a game is running – this can be changed to allow downloads in the background. Unfortunately, downloads when device is sleeping are not currently supported.
remember that it's still a PC! You can pair Xbox Controllers for fun local co-op experience in games that support it, or connect to a projector… opportunities are endless 😉
7. Special topic: Xbox Game Pass
Steam Deck just keeps on giving… and there's an easy and convenient way to get access to all of Xbox Game Pass library!
You can find instructions on official documentation provided by Microsoft:
https://support.microsoft.com/en-gb/topic/xbox-cloud-gaming-in-microsoft-edge-with-steam-deck-43dd011b-0ce8-4810-8302-965be6d53296
If you're able to connect external keyboard, it will make this one-time setup easier, but it's possible to do it with on-screen keyboard as well (that's how I did it). Be sure to copy/paste the commands to avoid having to re-type them manually (as that can be error prone 😉).
Oh, and Forza Horizon 5 works great!
8. Special topic: Emulation
Coming soon!
In the meantime, check out the wiki on this subreddit: https://www.reddit.com/r/SteamDeck/wiki/guides/emulation/
9. Special topic: Skins
Alright, it's pretty clear that I really like Steam Deck, and it allows me to finally catch up on some of the games I've had in my library for years (can't beat the convenience of grabbing it wherever and booting straight into a game in a second!).
My wife checked it out, and she liked it too. And luckily – Valve made strides with production and… Steam Deck is now getting delivered within couple of weeks after placing the order! So, I purchased one for Sheetal as well 🙂 And we decided to decorate hers with a skin:
Skin installation is quite involving (hair dryer and lots of patience required), but the quality is great, and the end result makes it worth it.
Check out the available designs on dbrand's site:
10. Additional resources
Looking for even more information? 😉
Steam Deck has a great community. People love tinkering, and sharing their findings with others. Whether it's tips on how to get an "unsupported" game to run, dual-boot to also allow for running games on Windows, or customizing boot video, you'll find all of that and much more under some of those links:
Steam Deck subreddit:
Parts for repairing your Steam Deck if something goes wrong:
Check compatibility of games in your Steam library, in case you want reassurance before purchasing the Deck:
GreatOnDeck provides lots of information on compatibility and performance of lots of games:
Unofficial "Getting Started" guide:
Homebrew section in the Wiki from r/SteamDeck subreddit:
Is there anything you found particularly interesting in this article?
Anything missing?
Appreciate your thoughts, please feel free to leave a comment below 🙂