Here's something we never had a chance to try before… Drag racing!
Is drag racing fun? How hard is it to start? How does the scoring work? Can everyone really go fast in straight line? Is smack talk a part of the dragstrip culture? 😉
Let's find answers to all those questions!
Before heading to the dragstrip…
It's summer, days are long, and this is an evening event (6PM – 9:30PM), so I decided to also put in some laps on the track beforehand. I really lucked out as there was a last-minute cancellation, which opened a slot for me. And best of all – I was able to arrange a fitting to a car I'm planning to race later this year! (EDIT: you can now read more about that event here: Race Weekend – Thunder at the Ridge).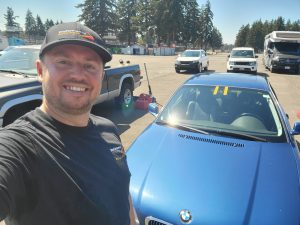 Intro to Drag Racing – Event Overview
This event was organized by ProFormance (https://proformanceracingschool.com/) – so both Sheetal and I were very eager to try it out.
It started with a brief classroom time, where we learned about the agenda, had a quick discussion, and learned that it was indeed first time on the drag strip for most of us (except for maybe 3 folks).
Quick look at the agenda: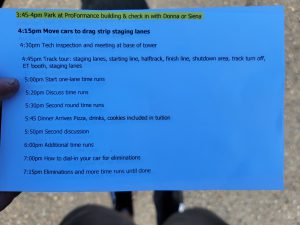 Then we split into 2 groups and jumped on the back of pickups. We did a drive-along through the dragstrip to have a chance to see important markers (1/8, return exits, etc.). Here's a selfie from the pickup truck bed as we're driving and admiring the views 😉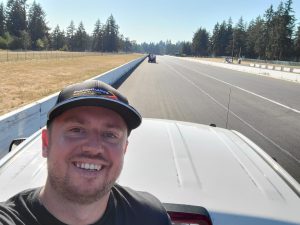 Knowing the surface we'll be sending it on, where the time is measured, how much room is available for braking, and how to safely return to the pre-grid, we started lining up and practicing the launches.
We all got few practice runs, to get accustomed to positioning the car, feel the timing and when to launch, experiment. We didn't do burnouts though, as we had a large number of AWD and FWD vehicles.
This is when we learned about:
approaching the start line – there are 2 measuring points, that help guide is to the right starting position (pre-stage, stage). It helps make the process smooth and quick. Interestingly, there also appears to be some potential for a strategic play here (since the start countdown will be initiated as soon as both cars are ready), but I'd need to explore that more to be able to share meaningful findings 😉
Christmas Tree – the famous light tower that counts down to the start. We learned that there are couple configurations (pro tree with blinking amber lights, full tree with amber lights turning on in sequence), and the latter was used for our runs.
And this is the first time we heard about "dialing in" and "staggered starts", but more on that later.
In this practice session, I experimented by trying getting off the line both with and without launch control. Engaging launch control lead to noticeably better results, with a slight adjustment of the timing (note to self: launch when 2nd amber light lights up! 🚦).
I definitely need to continue working on improving the reaction time – I saw a large variance there, and there was a lot of emphasis on how important that value is (both in getting it as small as possible, and equally important: consistent across runs).
At the mid-point of the event we had a break. Thank you to Donna for providing pizza! 🙏 We had a chance to fill up our bellies while discussing what we learned and exchanging the experiences. And I can't hide – lots of time slip comparisons took place 😀
For the second half, we dialed in our cars. Sienna helped us understand how to do that, and was making recommendations based on our results. With those values jotted down on our cars, it also lead to lots of fun conversations (but not much in terms of smack talk 😇).
Now, even if you know about them and prepare yourself, the first couple times you'll experience staggered starts… will be super confusing. There's natural instinct to GO when the other car launches. I mean – we're here to race after all, right? Such launches are used to offset performance differences between cars, and allow for fierce competition based on the dial ins.
As the day was coming to an end, some folks started to leave, and the formula became – pick a friend to run against and continue having fun! So of course Sheetal and I lined up for as many runs together as we could. So, who won between the 2 of us? That depends on who you ask! 😀 But the competition was fierce and very close through-out 🏁
I did end up leaving the event with fastest overall quarter mile time among all participants (11.3 seconds, stock 2013 GT-R), but unfortunately I didn't win a trophy, since the competition used scoring based on reaction time + delta from dial in, and… those staggered starts just got the best of me 🙂 Maybe next time!
Here's few more tips:
do not use AC on the drag strip – condensed water will drip and this isn't a place where you want to risk any variances in traction,
long pants are required (safety reasons, fire protection) – this can be bit uncomfortable on sunny days, but – safety first! 😉
work on consistency – be mindful of when you launch, minimize the variation,
focus on your own lights (those staggered starts…)
Anything I could recommend to improve in future events?
I think we could've used more explanation on how exactly does scoring work, as there's been a lot of confusion when we started getting results in the second half of the event, and cars with much slower times were winning. With additional explanation, things started to make sense, but that confusion could've been avoided.
Another aspect that would benefit from more clarity up-front, is better explanation of dialing in. Example strategies, what to pay attention to, things to avoid, etc. It's an important number, and I didn't feel very confident in committing to specific value without understanding its impact on scoring fully.
But – all things considered, the event was certainly a success, and a great learning experience, planting the seed of curiosity and desire to grow further.
Photos
Let's start with mandatory selfies!
If you're curious how to get an Alumni shirt from ProFormance, you can find more information in this article: ProFormance Competition Race Licensing 🙂
Lineup of the cars that showed up: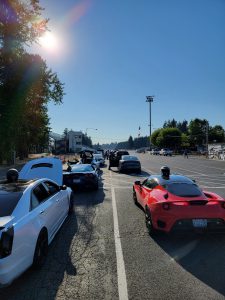 Overview of the drag strip:
Our cars and numbers:
Bogdan was in car #1021, and Sheetal in #1020.
Sheetal doing pulls: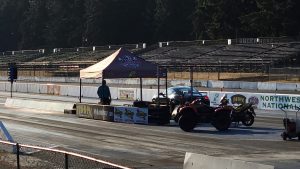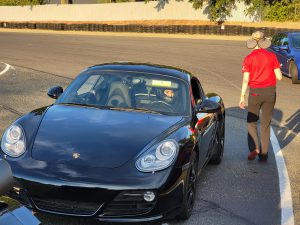 Beautiful evening views:
Bogdan's (#1021) time slips!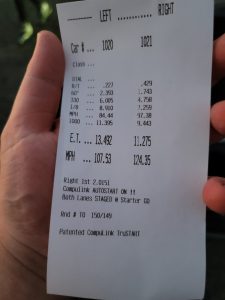 Thank you to organizers!
ProFormance Racing School – https://proformanceracingschool.com/
If you know them, you know how amazing they are 🙏
And if you didn't have a chance to get introduced yet, you really should check them out!
Thank you to Donna and Siena for your hospitality at the track and at the drag strip!
John Ramsey – General Manager at Pacific Raceways
our lead instructor for Intro to Drag Racing event
Something tells me we'll be back at the dragstrip next year…
And remember: run your car, not your mouth! 🏎️🚦🏁 😀