The season isn't over yet! And with the rainy weather, it makes for a great opportunity to continue with developing our driver skills.
Go to the track when others hesitate, and learn faster! Lots of us have tendency to shy away from visiting track during inclement weather. Concerns around crashing (as Don puts it "Who is in charge of that? You are!"), and the inconvenience of getting wet and cold is a big detractor to a lot of people. But – those are best conditions to quickly find where the limits are, how to handle the car, and experience different situations. From adjusting to ever-changing traction conditions, to modifying your line as the track changes!
Lots of fun and learning. We couldn't skip it, so let's see how the day went 🙂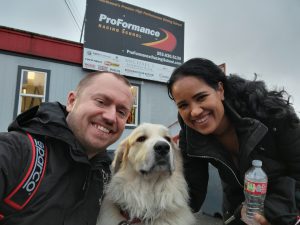 Table of contents:
Program Overview
When signing up, you can either choose AM or PM session, or a full day. If you go with full day, you get twice the seat time for each exercise, but even if you choose one of the sessions it will help you build your skills, and surely make for fun few hours.
The sessions are broken down into: 
Isolated exercises:
Skidpad – find the front-rear balance as you're modulating throttle and steering inputs, to try and tighten the radius around a cone. After couple runs, disable traction control, and see a) how traction control impacts the driving characteristics, and b) how you can tighten the radius by inducing a controlled oversteer. You should leave feeling like Ken Block 😊
Figure 8 – exercise in trail braking into turn to help keep front weighted, balanced with practicing patience on adding throttle on exit, then anticipating and catching an oversteer early as you're transitioning from the end of "8" onto the straight. Lots of fun and instructors keep introducing additional modifications through the exercise.
Track session:
understeer/oversteer exercise coming into turn 3B and 3A in reverse direction – lots of fun, and a safe space to feel the necessary balance from braking hard into a turn to accelerating out of it (and catching the oversteer as needed!),
and either traction sensing – usually conducted only when the track is really wet,
or lead-follow laps to practice wet line – very informative session!
If you've ever had the pleasure of working with ProFormance, or read any of my other articles 😉, you know that instructors are great, everything is always professional and you're guaranteed to have a great time.
Photos
Mandatory selfies 😉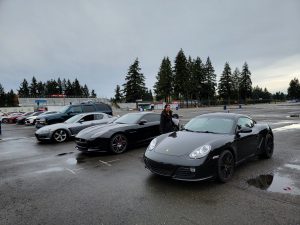 Sheetal during the exercises:
Don Kitch Jr. himself was coaching and cheering for Sheetal. Thank you, Don! 🙂
And here's couple more scenic photos with fall colors:
Pacific Raceways – Wet Track Line
In case you may find this helpful, I'd like to share my driver's notes from our session. It's always a great habit to jot down your thoughts, while it's all fresh in your mind. ProFormance provides free track maps in the classroom – help yourself by persisting (and later reviewing) the knowledge you obtained, and continue building on it.
Bogdan's wet track notes from 11/6/2022: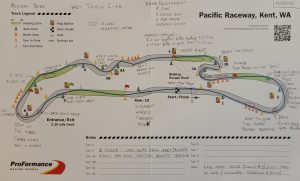 Bonus: Surprise towing experiencs…
It was a great day with our ProFormance friends!
And then, on the way back home, my car broke down on the freeway…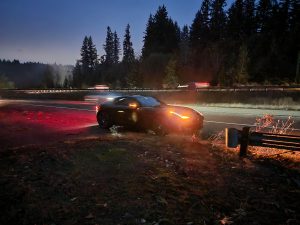 After sudden jerkiness and loud grinding noise from the rear of the car, I safely pulled to the side. Luckily there was a small service "turnaround" which gave me more room to move aside and not be on the direct shoulder of the freeway.
What's next? Roadside assistance of course. I appreciated how the booking was available online, but the form was… frustrating – input fields didn't work, I had to restart the process 3 times on my phone until it went through. Technology, am I right… 😉
Anyways – tow truck showed up in almost exactly 1 hour, driver was great, we loaded the car carefully and went back on the road.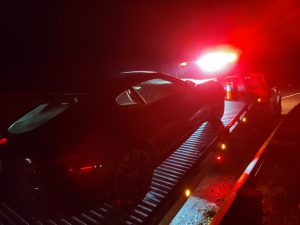 Here's a small pro-tip:
Make sure you know where your tow hook and towing anchor points are, and – this part surprised me – if you're not able to screw in the hook in the right direction, try the opposite! I'm not sure why, but my tow hook is left-threaded.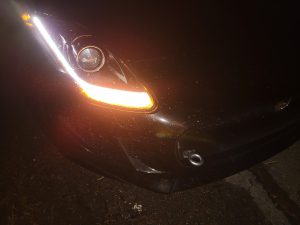 It was a Sunday night, so no better place to tow it to than home…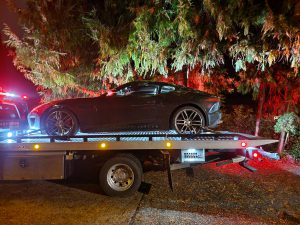 and we'll take it from there.
All things considered, as much as a bummer it is when a car breaks down, I appreciate how quickly (and safely!) we were able to get back home. Breaking down on the side of a busy freeway, in 40 degree weather, is not the most fun situation, but let that serve as a reminder on how good preparation matters! Having hand warmers, protein bar, and something to drink, while waiting at a safe distance from the car, made it much more manageable. One thing that surprised me is that I did not have a small flashlight in my emergency kit (and it got dark very quickly!). Live and learn, I went ahead and added a flashlight to every car since 🙂
And you know what? Even that unexpected car issue at the end of the day didn't throw shade at the fun and informative time at Rain Clinic! Great event, I wholeheartedly recommend signing up, you won't regret.