Back in the days, while growing up, I used to carry a Swiss Army knife with me. It was a cool little gadget, that would at times come in handy. Recently, I got curious about the Leatherman brand, and bought my first modern multitool. A week later I bough a second one, and then couple more as gifts for family members 🙂 I can't hide that I really like their utility and the quality.
I won't be doing an in-depth review of them here, as I'm fairly new to this space, wouldn't be able to comprehensively stack all the oferrings against each other to help you choose the right one, and there's plenty of high quality reviews online (I recommend checking out reviews on YT for any specific model you may be interested in).
Instead, I've prepared a quick gallery that can help as a high level overview of the functions and comparison of sizes across models.
Below you'll also find couple nifty additions to EDS (Every Day Carry), including flashlights and small tools.
Table of contents
Leatherman multitools – gallery and visual comparisons
EDC flashlights
Other EDC tools
Leatherman Wave
This is the best-selling model, positioned in the middle of the price-range, and offering high versatility.
Pros: fair price point and great selection of tools, replaceable screwdriver bits, precision screwdriver
Cons: I may have been unlucky, but the Wave I received came quite oily (easy to clean, but other models arrived in better condition)
Purchase on Amazon – $119.95
Leatherman Free P4
One of the differentiating aspects of the "Free P4" is the ability to "open it with one hand". The hinges operate very smoothly and easily. So far, it's been my favorite model.
Pros: build quality, sturdiness, all tools available from the outside, convenient and easy to (safely) operate locking mechanism,
Cons: no spring-loaded plier mechanism, not fully compatible with ratchet attachment,
Purchase on Amazon – $149.95
Leatherman Surge
A bit larger and heavier model, which makes it a bit less convenient for everyday carry, but a great candidate for keeping in your vehicle.
Pros: has the biggest scissors across all models, and the longest knife blade, replaceable saw (T-shank tool adapter), and comes with spare saw blade and pouch for 2 total blades,
Cons: bigger and heavier than other models,
Purchase on Amazon – $149.95
Leatherman Charge Titanium
A bit pricier model, because of the use of a very strong (and light) titanium. It comes with additional bits in their own case (which also fit in the main pouch).
Pros: comes with bits, belt clip and a loop (not attached), precision screwdriver (flat and Phillips), belt cutter aka gut-hook or fish-hook (best thing ever for the "frustration-full packaging" 😊), bottom edge of the file also has a cross-cut (most multi-tools don't provide that),
Cons: no awl,
Purchase on Amazon – $189.95
Leatherman ratchet and extension
The ratchet and extension kit are two handy accessories that further extend the usability of our multitools. They're fairly compact, can fit in the pouches (depending on the model, as some of them have extra side-loops), and can really help make a particular task easier.
Ratchet driver (view on Amazon) paired up with Free P4:
Bit driver extender (view on Amazon) paired up with Surge:
Comparisons
Side-by-side: Surge vs Free P4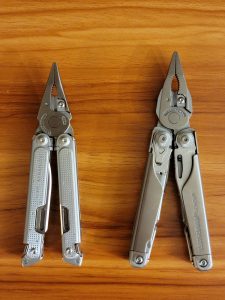 Side-by-side: Free P4 vs Wave: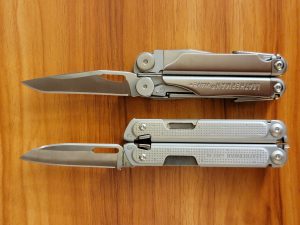 Side-by-side: Surge vs Charge: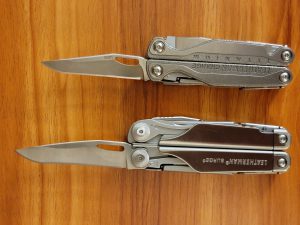 Side-by-side: Free P4 vs Surge vs Charge vs Wave
Other EDC Accessories
Olight i3T EOS
Purchase on Amazon – $19.95
Beam types:
– HIGH – 180 lumens, 60m, run-time of 21 minutes
– LOW – 5 lumens, 12m, run-time of 16 hours
Dimensions:
– length: 89mm/3.5in
– diameter: 15mm/0.59in
Other:
– single AAA battery, IPX8 waterproof, 900CD, 41g/1.45oz with battery,
Photos: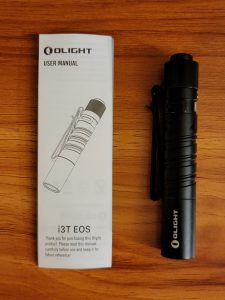 Lumintop Tool AAA
Purchase on Amazon – $15.95
Beam types:
– HIGH – 110 lumens, run-time of 30 minutes
– MEDIUM – 32 lumens, run-time of 4 hours
– LOW – 5 lumens, run-time of 36 hours
Dimensions:
– length: 78mm/3.1in,
– diameter: 14.4mm/0.57in
Other:
– single AAA battery, 556CD, IP68 waterproof (underwater 2m), max throw 37m,
Knipex Cobra XS
Great quality and well built pliers, available in multitude of different sizes.
View on Amazon and find the size right for your needs.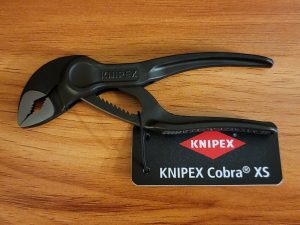 And what's your favorite EDC?